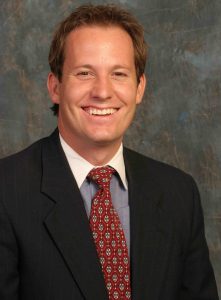 Real Estate Experience:
Ash Parker closed over 240 lease and sale transactions in the past six years and was #1 Producer in 2013, 2014, 2015 and 2016 at Richard Bowers & Company (RB&Co). Mr. Parker is a Vice President and has twenty years of transactional experience at RB&Co., where he specializes in third party office leasing and tenant representation. He has also represented clients in over sixty-five sale transactions including bank-owned REO property dispositions. Ash Parker has established a reputation as a highly adept negotiator and problem solver of complex space issues.
Mr. Parker's transaction experience also includes strategic planning and portfolio management for office and warehouse facilities. His goal in each transaction is to satisfy each client's operational, financial and cultural objectives as it relates to commercial real estate. He provides comprehensive financial analysis focused on balance sheet implications and demographic analysis centered around potential customer bases.  Mr. Parker can advise clients on identifying tax credits available through opportunity zones and less developed census tracts. Ash Parker has the track record to work on any type of real estate transaction and emphasizes diligence, flexibility and speed in his commitment to client service.
In 2012, Ash Parker became one of the country's first National Association of Realtors members to receive the GREEN designation. Mr. Parker is recognized as a Life Member of the Atlanta Commercial Board of Realtors Million Dollar Club for his consistently high transaction volume each year. Considered an industry expert, Mr. Parker is acknowledged as a contributor in the book, The Inside Track to Careers in Real Estate, which was published by the Urban Land Institute and written by Stan Ross, former Vice Chairman for Ernst & Young's Real Estate Division. Ash has published articles in widely read periodicals including Dorey's Office Guide, Real Estate Observer, and Bowers Digest, and has been quoted several times in the Atlanta Business Chronicle, CoStar Advisor, GlobeSt.com, CityFeet, and Biznow.
Education:
Wake Forest University, Winston-Salem, NC
BS – Calloway School of Business and Accountancy
General Information:
Ash Parker grew up in Houston, TX and has lived in Atlanta, GA since 1998. He is an advocate of children walking to school, and for five years, Mr. Parker chaired the Safe Routes to School campaign at Morningside Elementary School. He initiated and successfully won a federal application for $500,000 which was spent on improving the sidewalks and intersections in the Virginia Highland and Morningside neighborhoods. Recently, Ash raised money to repair the Smith Park fountain at Monroe Dr./Piedmont Rd. intersection.  For the past three years, Ash Parker coached the varsity girls lacrosse team at Grady High School, including the school's first two appearances in the state playoffs.
Mr. Parker also appeared as an extra in the movie, Stroke of Genius: The Legend of Bobby Jones.  Ash usually knows his Halloween costume months in advance, and has been known to sport a handle bar mustache or a monkey tail beard.
Project Portfolio
260/270 Peachtree
Downtown, 600,000 SF
The Atrium
Cumberland, 180,000 SF
The Peachtree
Midtown, 345,244 SF
3300 Highlands Pkwy 
Smyrna, 65,000 SF
The Capital Building 
Midtown, 20,644 SF
Governor's Ridge – 8 Buildings
Cumberland, 71,689 SF
Piedmont Court
Buckhead, 91,000 SF
1700 Commerce Ave.
Midtown, 20,644 SF
Paper Mill Village, Bldgs. 1 & 23
East Cobb, 20,000 SF
Vinings Main
Vinings, 36,000 SF
1580 & 1564 Terrell Mill
Cumberland, 24,784 SF bldg.
4005 Old Milton Pkwy.
Alpharetta, 8,400 SF w/4 acres land
1801 Peachtree St.
Buckhead, 53,036 SF
2880 Dresden Dr.
Chamblee, 28,980 SF
83 Walton St.
Downtown Atlanta, 18,000 SF
Baltimore Row   
Downtown, 106,036 SF
2299 Perimeter Park Drive
Perimeter, 40,000 SF