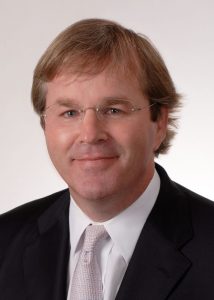 Experience:
Bucky Winfield is an experienced professional with a proven track record of representing tenants, buyers & sellers since 1995.  With over 24 years of commercial real estate experience, Mr. Winfield specializes in comprehensive leasing transactions, dispositions and acquisitions and is recognized throughout Atlanta's industrial real estate marketplace.  In 2000, Bucky was awarded the Society of Industrial and Office Realtor designation (SIOR).  Mr. Winfield has extensive experience in problem solving regarding difficult transactions on the acquisition and disposition sides for his clients.
After 15 years with Richard Bowers & Co., Bucky left to pursue other opportunities with various commercial real estate firms in Atlanta only to return to Richard Bowers & Co in 2018.  During his tenure with Richard Bowers & Co, he has been recognized as a top five producer and overall highest producer on numerous occasions.
Education:
Mr. Winfield attended Woodberry Forest School. He graduated with a Bachelor of Arts degree from the University of North Carolina in Chapel Hill, where he was a member of the varsity wrestling team.
Personal Interests:
Bucky enjoys spending time with his two young children, scuba diving, off-road motorcycle riding and fly fishing.
Affiliations:
Society of Industrial and Office Realtors – 2000
Acknowledgments:
Atlanta Commercial Board of Realtors Million Dollar Club Life Member
Phoenix Award
CoStar Power Broker
Recent highlights of his career over the last few years are as follows:
8950 Highway 5 – Douglasville
• 45,000 SF
Advanced Component Specialists
• 57,000 SF
All Strong Industry Inc.
• 102,000 SF
• 102,000 Renewal
• 86,000 SF
• 64,315 SF
American Cancer Society
• 86,000 SF
Constar Inc.
• 202,607 SF
CME Wire & Cable, Inc.
• 840,112 SF (Multiple Properties/Cities)
DHS Realty Partners
• 11,250 SF
• 45,000 SF (Investment Sale)
Drive Medical
• 197,000 SF
• 125,000 SF
Meritex Enterprises, Inc.
• 462,000 SF
• 303,000 SF
• 264,000 SF (investment sales)
• 168,000 SF
• 79,500 SF
Petersen Aluminum
• 73,000 SF
• 73,000 Renewal
• 55,000 SF
Robert E. Yancey
• 34,000 SF
Skyline Southeast
• 36,000 SF
• 36,000 Renewal
TTV Capital, LLC
• 4,370 SF
Utah State Retirement Systems
• 296,000 SF (investment sales)
• 254,000 SF