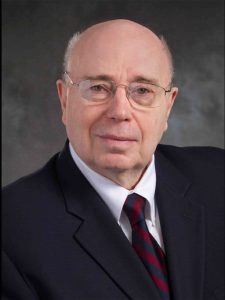 Education:
Emory University
School of Business, Economics
Career Summary:
The focus of Kinton's lengthy industrial and commercial real estate career has been to concentrate on building and maintaining long term client relationships. During his career he has sold over 16,000 acres of industrial, commercial and retail land and leased and sold in excess of 14,000,000 square feet of industrial space.
Some of his major brokerage transactions include Kaiser Aetna Peachtree Corners Business Park (450 acres), Breckinridge Business Park (900 acres), Oakbrook Business Park (600 acres), New Manchester (2,400 acres) business and residential community, Sugarloaf (2,000 acres) business and residential community, , Chateau Elan (1,750 acres) winery, golf and residential community, Mall of Georgia site (450 acres), Georgia Pacific Headquarters, Peachtree Medical Building, Regional U. S. Post Office
site, Tenneco Regional Distribution Center (850,000 square feet) Kraft Regional Distribution Center (500,000 square feet) and Greystone Power (170 acres) future regional headquarters. Several of the projects mentioned were resold or leased.
Achievements:
Past President Georgia Chapter SIOR
"Largest Intercity Industrial Transaction" (Society of Industrial Realtors) 1971
"Best Land Deal of the Year" (Atlanta Business Chronicle) 1990
"Best Industrial Deal of the Year" (Atlanta Business Chronicle) 1991
"Best Land Deal of the Year" (Atlanta Business Chronicle) 1998
"Best Land Deal of the Decade" (Atlanta Business Chronicle) 1998
"Largest Industrial Deal of the Year" (Atlanta Business Chronicle) 2001
" Best Land Deal of the Year" (Atlanta Business Chronicle) 2002
"Largest Industrial Deal (RU) of the Year" (Atlanta Business Chronicle) 2003
"Million Dollar Club" – Commercial Board of Realtors – Active Life Member 38 Years
"Phoenix Award" – ACBR
"Silver Phoenix Award" – ACBR
Experience:
2006 – 2011 Kyle Kinton, Inc., President – Commercial & Industrial Real Estate
2001-2006 C B Richard Ellis , First Vice President – Land and Development
1986-2001 Grubb & Ellis, Senior Vice President – Land and Development
1966 – 1986 – Adam Cates Company, Senior Vice President – Industrial Division Manage